Posts for: February, 2019
By Richard H. Lestz DDS, PC
February 19, 2019
Proponents of legalized marijuana have won phenomenal gains over the last decade. Despite the federal government's continuing criminalization of the drug, several states including California, Colorado and Massachusetts, have voted to legalize its recreational use.
Most people are aware of the social and political controversies the marijuana legalization movement stirs. But there's another side to this roiling issue: the health effects of marijuana, particularly for your teeth and gums. What may be lost beneath the more exciting headlines about ballot initiatives is the growing evidence that habitual marijuana use may increase the risk and severity of periodontal (gum) disease.
Gum disease is a bacterial infection caused by dental plaque, a thin film of bacteria and food particles that accumulates on teeth. The spreading infection triggers inflammation, a normal bodily response to disease that's ordinarily beneficial. But if the inflammation becomes chronic it weakens the gums' attachment to the teeth. This can create voids or periodontal pockets of infection around the teeth. The disease can eventually damage the underlying bone, which could accelerate tooth loss.
Poor oral hygiene is the biggest factor for an increased risk of gum disease; thinner gum tissue (an inherited condition or related to poor tooth position) is another factor, as well as lifestyle habits like tobacco use or excessive alcohol consumption. Add marijuana to the list: there's now some evidence that its use increases the risk for more severe periodontal pockets if the disease occurs.
In a recent study, researchers with the Columbia University College of Dental Medicine reviewed statistics on the care for nearly 2,000 adult patients; a quarter of those in the study were frequent marijuana users. The marijuana users proportionately had deeper periodontal pocket occurrences than the rest of the patients in the study that didn't use the drug.
The study doesn't say that marijuana causes periodontal (gum) disease. But it does suggest that marijuana use might increase its severity. As with other substances and practices in our society, marijuana use comes with a caveat: it may be legal where you live, but it may not necessarily be good for your health.
If you would like more information on the effects of marijuana use on your oral health, please contact us or schedule an appointment for a consultation. You can also learn more about this topic by reading the Dear Doctor magazine article "As More States Legalize Marijuana, Link to Gum Disease is a Concern."
By Richard H. Lestz DDS, PC
February 09, 2019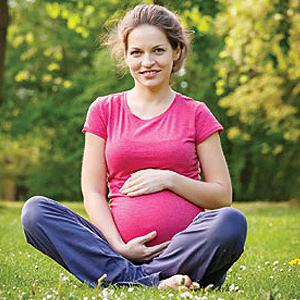 Pregnancy is an exciting time in a woman's life — but it can also generate a lot of questions about both the mother's and the baby's health. The realm of dental care is no exception.
Here are a few of the questions we frequently hear from expectant mothers, along with our answers.
Does the baby's tooth calcium come from my teeth?
This question is frequently asked by mothers who may have had dental issues and are worried they'll pass on these problems to their baby. Simply put, no — a baby developing in the womb derives minerals like calcium for their teeth and bones from the mother's diet, not her teeth. What an expectant mother can do is be sure to eat a healthy, balanced diet rich in nutrients and minerals like calcium.
Am I at heightened risk for dental disease during pregnancy?
Pregnancy does cause significant increases in your body's hormones, particularly estrogen. This can cause changes in the gum tissue's blood vessels that may make you more susceptible to periodontal (gum) disease (commonly called "pregnancy gingivitis"). It's also possible later in pregnancy to develop non-cancerous overgrowths of gum tissues called "pregnancy tumors." The heightened risk for gum disease during pregnancy calls for increased vigilance in monitoring gum health.
What should I do to take care of my teeth?
It's important to brush your teeth thoroughly twice a day with ADA-approved fluoridated toothpaste to remove plaque, a thin layer of bacteria and food remnants that adhere to teeth. You should also floss daily and consider using an anti-plaque/anti-gingivitis mouthrinse. And, of course, you should see us for regular office cleanings and checkups, or if you notice swollen, tender or bleeding gums, or other abnormalities.
Should I take prenatal fluoride supplements?
This sounds appealing as a way to give your baby a head start on strong tooth development. Studies on its effectiveness, however, remain slim and somewhat inconclusive — we simply don't have enough data to make a recommendation. What does have a solid research record is the application of fluoride to teeth in young children just after they appear in the mouth — studies involving over a thousand teeth have shown 99% cavity-free results using topical fluoride applications with sealants.
If you would like more information on dental care during pregnancy, please contact us or schedule an appointment for a consultation. You can also learn more about this topic by reading the Dear Doctor magazine article "Expectant Mothers."